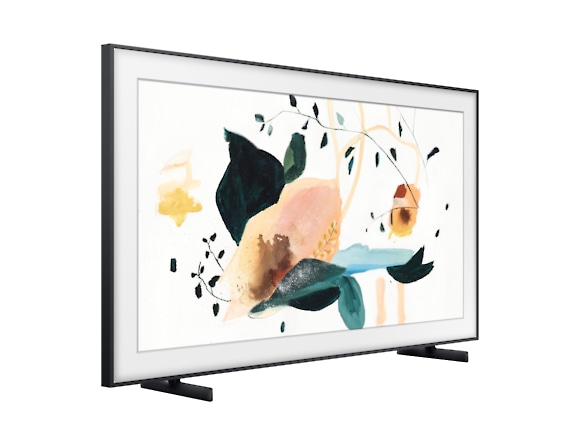 We can now frame the Samsung Frame
Over the last few months we have had lots of people contacting us asking if we could do them a frame for the "Samsung The Frame (2020) QLED TV"
So instead of the standard boring frame that comes with the TV, you could get one that can match's perfectly to your home or office.
It's taken a little bit of working out, but we are pleased to announce that we are now able to "frame" the Samsung Frame.
So it can look like this instead of the plain frame.
But not only that, but if you fancy, we can also add a two-way mirror. So when the TV is turned off it's a Mirror.
Samsung The Frame (2020) QLED Art Mode TV
The Frame enhances your home whether you're watching TV or not. In Art Mode it displays artwork and photos (from Samsung's expandable library, or your own collection), transforming your TV into art that enhances your living space, just like a picture frame. And comes with a near-invisible optical cable.
As a TV, it features the billion shades of Samsung's QLED screen, plus Dual LED and Q HDR technology for incredible colour and detail. Control all compatible devices with One Remote Control, and you can access a world of online entertainment via Samsung's Smart platform, and interact by voice with Bixby, Alexa and Google Assistant, all built-in (Google Assistant available from June 2020 via software update).
TV Sizes
We are making this product in 4 sizes – 43″, 50″, 55″ and 65″.
And are selling the TVs at the standard RRP.
| | |
| --- | --- |
| Size | TV Cost |
| 43 | £1199 |
| 50 | £1399 |
| 55 | £1499 |
| 65 | £1999 |
TV price may change over time 01/07/2020
Art Mode
Display artwork or your own photos with ease. Select the art pieces you want to see and set the time on how long you want it to be shown on screen. If you want more info have a look here on the Samsung site.
QLED technology
Cinematic colour of over a billion colours and shades. Samsung's QLED is certified to deliver 100% colour volume (DCI-P3 standard measure). It transforms light into breath-taking colour without degradation over time.
Your Frame
The frames are from our "straw hat" range. Not sure about the frame have a look in here.
You can also order a frame sample from here. Samples are £5 and refundable on purchase of a TV.
The size of the TV dictates the price of the frame. To make it simple, all our frames in this range are the same price, depending on size.
| | |
| --- | --- |
| Size | Frame Cost |
| 43 | £499.99 |
| 50 | £584.99 |
| 55 | £614.99 |
| 65 | £699.99 |
Mirror Glass
Super Silver dielectric mirror glass
We are pleased to be able to offer our NEW Super Silver dielectric mirror glass. This product has a semi-transparent mirror coating on the glass that allows it to become a mirror in favourable lighting conditions. For mirror tv installations it provides flawless picture quality through the mirror, whilst maintaining a beautiful reflection when the television is off. This is a special kind of "two way mirror", manufactured on a clear glass substrate that has absolutely no colour tint and high clarity.
If you want to add a mirror to your Samsung The Frame TV, the price depends on the size of TV your choose.
| | |
| --- | --- |
| Size | Mirror Cost |
| 43 | £150.00 |
| 50 | £165.00 |
| 55 | £185.00 |
| 65 | £200.00 |
Shop
If you are interested in a Samsung Frame with fancy frame, have a look in the shop to find the perfect match for your home.